Nigeria coach Randy Waldrum feared the Australian public may be slightly cold or aloof with him after his team stunned the FIFA Women's World Cup™ co-hosts in Brisbane last Thursday.
Instead, however, the American has encountered nothing from warmth and admiration from Matildas supporters in recognition of the Super Falcons' exceptional performance. "Australia is an amazing country," Waldrum told FIFA.
"The fans have been great with us. In some countries – maybe even the US where I'm from – if a team were to come in and beat the host nation, the fans may not be particularly friendly to those players and coaches.
 "But here, even if I go out for a walk, I have so many people stop me and say, 'Congratulations, your team played so well, you deserved it and we wish you all the best'. Australia is a very sporting country, I feel. They understand sport and appreciate it whether it comes from the Australia team, the Nigerians, or whomever."
Nigeria's victory, coupled with an opening-game draw with Canada, means they sit top of Group B ahead of Monday's showdown with the Republic of Ireland. The Super Falcons require only a draw from the game to secure a place in the knockout phase.
Asked about the reasons behind his team's impressive tournament so far, Waldrum highlighted two key elements.
"The first thing is the chemistry and the bond we have," he said. "You heard Asisat [Oshoala] speak after the Australia game, she said it's not about whether she plays for 90 minutes or not, she's going to give her best no matter how long she has on the field. She also very quickly complimented her team-mates and the effort of the team. She gave them the credit even though she scored such a big goal for us. That's the attitude all of our players have.
"The other thing that really impresses me is the fight this team has. It's one thing to have talent and have a good team, but there's something to be said about your heart and what's inside you. That's innate and it's part of their DNA. Against Australia, it would have been easy to have folded after going a goal down late in the first half, yet we came back and got the equaliser before the break. This team's resolve, competitiveness and fight has been nothing short of amazing."
Waldrum on why Ireland will present a new challenge for his team…
"This game is a little bit different for us. Coming from the US, I knew Canada very well and have even coached quite a few of those players over the years. I knew how they were going to play and making the game plan was a little easier. We scouted Australia for a while and knew what their strengths were.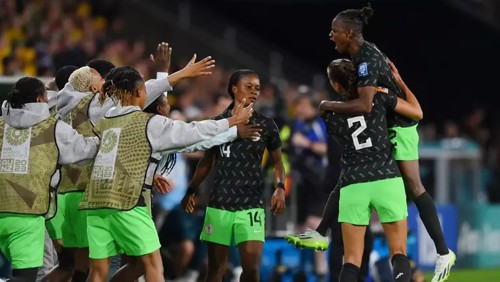 "Ireland have done extremely well in this tournament. Even though they are eliminated, they played two very good matches and were probably a little bit unlucky not to get a result against Canada. They are a top-20 team [in the FIFA/Coca-Cola Women's World Ranking] and we're 40th. A lot of people may go into the match thinking, 'You've got those results against Canada and Australia, so this should be an easier game'.
"It's really quite the opposite because Ireland played those first two teams a certain way –they had to defend a lot and pick their chances to counter. I have a feeling they are going to be much more offensive against us because there's nothing to lose for them now. So, I don't know if I can prepare [Nigeria's strategy] from what I've seen in their first two matches. That's made the tactical preparation a little bit more difficult."
On what he wants to see from Nigeria in the game and Ireland's main threats...
"I hope it's a match where we continue to grow our confidence. I thought we were better in the second match [against Australia] in controlling more parts of the game. I would hope we would have more of the ball in this match and we can attack a little more than we have in the first two games.
"Ireland are also very good on the counter, though. They are good in wide areas and like to get the ball in the box from there or win corners. They have a couple of special players. I think Katie McCabe is fantastic and Denise O'Sullivan played for me at Houston Dash. I know her well and she's a very good player."
On his team's approach knowing a draw will be enough to qualify…
"We're looking for a win as that could see us finish top of the table. I know the 1999 team were very successful [Nigeria reached the Women's World Cup quarter-finals at that tournament] and we've got out of the group stage twice in our history, but I don't know that any team has had this kind of competition in the group before. "It would be unprecedented to win the group, so three points would be great. But honestly, I'd be quite happy to get one and advance. It's just such a difficult group with three tough teams. I'll take a draw if that's the result we get. "
Credit: FIFA.COM